Nautical positioning alternative to GPS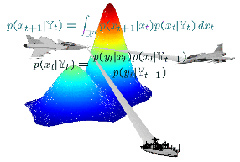 Boat traffic currently relies on GPS technology to determine positioning at sea, but the solution is not always fool-proof, and submarines can't take advantage of it because of visibility requirements. At Linköping University, doctoral candidate Rickard Karlsson has developed a system that uses a ship's own radar to measure distance to the surrounding shore, after which position can be determined by comparison with a digital sea chart. For subs, sonar measurements get compared to digital depth charts to achieve the same effect. The entire system is software-based, obviating the need for any external GPS hardware, so is not susceptible to interference. This same particle filtering mathematical algorithm is also expected to be utilized to track industrial robots, avoid vehicular collisions, and track marine vehicles from aircraft.

[Via Near Near Future]
Recent Entries
» Swedish team reinvents the smoke alarm (4/7/2005)
» Fort Lauderdale to get robotic parking garage (4/6/2005)
» Microsoft gives thumbs-up to new user interfaces (4/6/2005)
» Limited edition white Gran Turismo PSP resurfaces… again (4/6/2005)
» Yet another Windows Mobile-powered Treo rumor (4/6/2005)


(Add your comments)
Reader Comments
1.
Posted Mar 15, 2005, 11:33 AM ET by chuck
russian nuclear subs have been using the "depth maps" of the World Ocean for decades. why do you think the USSR has had the biggest oceanographic fleet in the world?!
2.
Posted Mar 16, 2005, 4:53 AM ET by scot
" The entire system is software-based, obviating the need for any external GPS hardware, so is not susceptible to interference"

Well, except for the usual range of electronic counter measures available to your enemy. Plus, you're radiating, making you detectable (this also applies to submarines).
Add your comments
Please keep your comments relevant to this blog entry: inappropriate or purely promotional comments may be removed. Email addresses are never displayed, but they are required to confirm your comments. To create a live link, simply type the URL (including http://) or email address and we will make it a live link for you. You can put up to 3 URLs in your comments. Line breaks and paragraphs are automatically converted — no need to use <p> or <br> tags.