Hannes Ovrén
I started as a PhD student at CVL in late 2011.
My research interests are in the area of robotics, active vision and 3D-sensors. My main area of interest are continuous-time structure from motion and camera-IMU applications. My supervisor is Per-Erik Forssén.
I aim to publish all software produced by my research with an appropriate open source license. Since I enjoy programming, and helping others, I try to answer questions on stackoverflow.com as often as possible.
Software
I make most of the work I do available on
GitHub
. The list presented below is notable
software
which has been produced as part of my research.
Publications
Show/hide
year headlines.
Show/hide
links to additional information.
Journal papers
Book chapters
2015
Abstract
Keywords
BiBTeX
DOI
Conference papers
Theses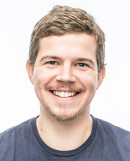 Hannes Ovrén
Contact:
Postal address:
Computer Vision Laboratory
Department of Electrical Engineering
SE-581 83 Linköping, Sweden
Phone:
+46(0)13 28 1887
Visit me at:
Building B, Campus Valla
Visionen

< >
My pages:
External pages:
Informationsansvarig: Hannes Ovrén
Senast uppdaterad: 2018-04-13